Why to apply Ishikawa? Here's why!
In this article, you will be able to find what Ishikawa is en the six reasons why you should apply it.
An approachable method to improve the quality of your organisation
The Ishikawa diagram is also known as the Fishbone model and the cause-and-effect diagram. To master your quality, there are seven tools you can use. This diagram is one of them. Getting to the center of the problem and solving it is the main aim of the Ishikawa diagram.
In 1982, Kaoru Ishikawa was working at Kawasaki, which is known because of its motors. He noticed his colleagues getting frustrated because they felt unheard and powerless when failures arose. He then developed the Ishikawa diagram. A flaw can often be divided in more than one cause. One of the results is employees solving their own problems (thus bottom-up), because the main causes then become known. Nowadays, more and more organisations are looking for a method to trigger bottom-up problem solving, which is why Ishikawa is more relevant than ever. 
Planning a brainstorm session sometimes leads to unstructured meetings in which not everything is discussed. Using Ishikawa to structure your brainstorm may cause you to find causes to problems which had been unnoticed before.
Applying the Ishikawa diagram
It takes three steps to create an Ishikawa diagram:
Place the issue on the head of the fish;

Determine the main categories of the possible causes and then

determine the smaller causes by asking "why" or "is caused by..".
Six reasons to apply Ishikawa diagrams:
When looking for possible causes within a process, solution, problem or situation;

If you want to look for the relation between different causes of a problem;

To come up with a suitable solution which covers the entire problem and not just part of it;

It is a team activity which leads to joint understanding of the problem;

To give your employees insight in the problem and give them the opportunity to influence the improvement of their own process;

When you are ready to initiate other projects within your organisation on your way to improvement;
There are many forms of the Ishikawa diagram available. However, the 6M Fishbone Model is the most common. The problem is divided into potential causes, which leads to the following categories: Methods, Machines, Men, Material, Measurements, Mother nature (environment). Sometimes, two more categories are added, namely Management and Maintenance.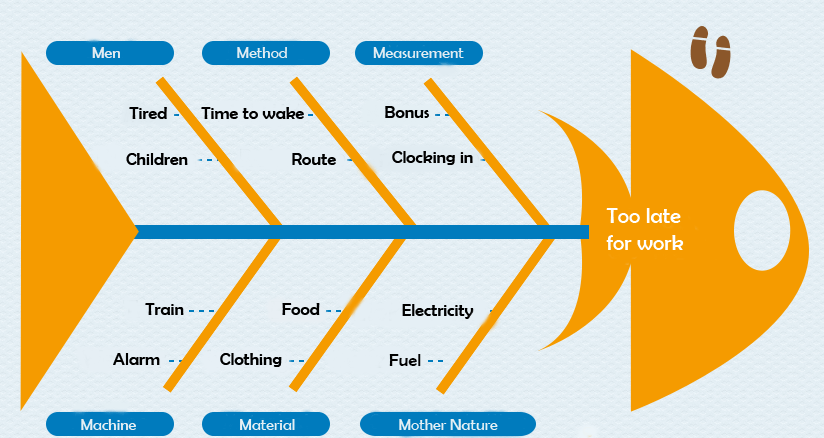 As stated before, the Ishikawa diagram was actually conducted to involve employees in the process of improvement. This approachable method made realising progression possible by creating the opportunity to solve problems bottom-up. Start improving right away!