Lean implies 'slim' and Kaizen means 'change for the better'. Kaizen is one of the many principles that form the Toyota Production System (TPS). Lean and Kaizen are often used together because the two methods complement each another. Lean helps you create a vision, while Kaizen is the method for making the vision reality. If you'd like to know more about Kaizen, please click here.
Once you've selected an operational process to which you want to apply Lean, there are a number of basic steps that you have to take. The purpose of these steps is to give you a good start with Lean Kaizen.
1. Determine whether a specific operational standard is in place for the process that you want to improve
An operational standard is a description that explains how a process must be executed. If there is no written standard, the first step is to create one. Without an operational standard, there is no base according to which to improve performance and it would be senseless to apply Lean Kaizen. Once you've determined a specific operational standard for the process that you want to improve, you can apply Lean Kaizen in order to add extra value to this standard and reduce waste.
2. Identify existing criteria that indicate how well an active process is working
You have to determine the current performance level of every operational process that you want to improve so that you can subsequently find out whether it actually has improved. At the same time, identify the improvement activities that you should focus on. Once you've determined the improvement criteria, enter them into a table. Then register the desired performance level and the current performance level according to every criterion. If there are no criteria for an operational process that you want to improve, you'll have to create such criteria. You cannot improve an operational process unless there are ways of finding out how well the process is performing for the company (determining the performance level).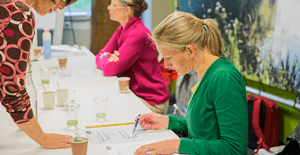 3. Learn as much as possible about the process in question
Study the operational standard. Go through the process with the process expert, who is a person who knows it well. This person can apply guidelines to help you trace the process. Create a description of the process in question. Get the process expert to assess this description in order to confirm that you understand how the process works.
4. Identify the objectives of the organisation
You will use these objectives to realise improvement. This becomes possible by exposing wastes that affect the performance levels of operational processes. If your organisation has not identified these objectives, go in search of criteria that are most closely related to the achievement of the objectives of the organisation (customer satisfaction, trade, profitability and market share).
5. Determine your desired timeframe for the application of Lean Kaizen
This serves to determine the focus, boundaries and expectations related to the execution of a Lean Kaizen project. It will ensure an efficient approach.