Working more efficiently using robots
Everyone has heard of Artificial Intelligence nowadays. But why is this still not applied within every organisation? After automating many processes, there has arisen a new opportunity. This is called RPA, or: Robotic Process Automation. This enables an organisation to create many more opportunities for the future. 
The Lean methodology is often used to optimise processes, because these will be fun more efficiently. From here on, it is easier to implement RPA. When looking in the Lean toolkit, RPA can be seen as the most recent and technological addition to it. Currently, Lean makes use of tools and techniques in business processes that optimise time, resources, possessions and productivity. And eventually, this increases quality as well as customer value.
Robots are able to support Lean to increase this quality, eliminate possible defects, reduce lead time and increase customer satisfaction. Looking at the growth potential of Lean, the graph below shows the phase of growth (the red line). It is expected the growth in all three phases could increase with 20% by implementing the use of robots.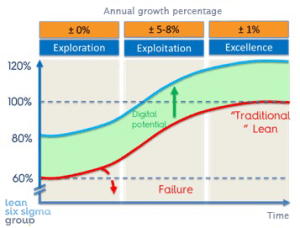 And how about working more efficiently? Often, when companies are thinking about using robots, focus is laid only on these robots and processes are forgotten. Less, is more they think. The surface of the organisation is improved. However, this would only include the tip of the iceberg that is the organisation. In other words, this automation is hard to develop, prone to failure and takes up much time. 
Cross-functional teams must work together to create a transparent process. The best solution to a problem must be chosen, tested and the effect it has must be measured. This way, it becomes clear in what way exactly robots make these processes more efficiently and what the impact is they have on the customer and organisation. You should strive towards a better solution for the organisation instead of the other way around. 
Lean tools, techniques and principles might be able to offer great support. The tools that are used will focus on the process design first. This should be finished before the automation phase has started. Waste should therefore be eliminated and current tasks should be optimised. 
After implementing these robots, you will be able to work more efficiently, because: 
Automation increases the percentage of FTR (First Time Right) by eliminating possible human errors.

You can work using Just-In-Time. This means the process of possessing information on the right moment should be automated. 

RPA takes the robot out of the human being.  Employees can focus on activities that increase value and increase customer satisfaction. Studies have shown people actually prefer their jobs when they feel autonomous, capable and in possession of a goal. 

Robots are able to work 24/7. This is an unique power.

Robots are faster than human beings. 

The data that is generated by the use of robots provide managers with more insight in the bottleneck of the process and gives them ideas on how to improve the organisation. 

Using RPA hands you the opportunity to choose the capacity of the robots, whenever. 
In other words, RPA gives an organisation many advantages to work more efficiently and moreover use these capacities optimally because employees are assigned tasks they are good at.